Epoxy Flooring in Waterloo, Kitchener, Cambridge
Epoxy Floors Done Right
Superior Quality Epoxy Floor Coatings
Mountainview provides high quality epoxy flooring services that include 100% solids epoxy coatings, polyaspartic, urethane, and polished concrete floors.
We are a trusted and preferred epoxy floor contractor for many residential and commercial property owners in the Kitchener-Waterloo region. Our team of epoxy floor installers have the skills and knowledge to take on complex projects of all sizes.
Mountainview is a one-stop epoxy flooring company that provides concrete flooring solutions for most residential, commercial or industrial properties. We can re-finish damaged, unsafe, or just plain ugly concrete surfaces quickly and affordably. Epoxy flooring that is safe, durable, and stands up to high traffic can help promote and make your home or commercial business more attractive. We can even personalize your floor by adding a logo for your business or favorite sports team.
For all epoxy floor projects in the Kitchener, Waterloo and Cambridge region, we use only high grade materials to ensure that your concrete floor coatings meet your needs and expectation. Whether it's a simple residential porch, garage floor coating, or commercial project, you can be assured your concrete surface will be installed properly to last you many years to come.
If you are ready to explore the possibilities of concrete floor coatings, contact us to speak with one of our epoxy flooring specialists who can discuss options with you.
Waterloo Epoxy Flooring Services
Including Epoxy, Polyaspartic, & Polished Concrete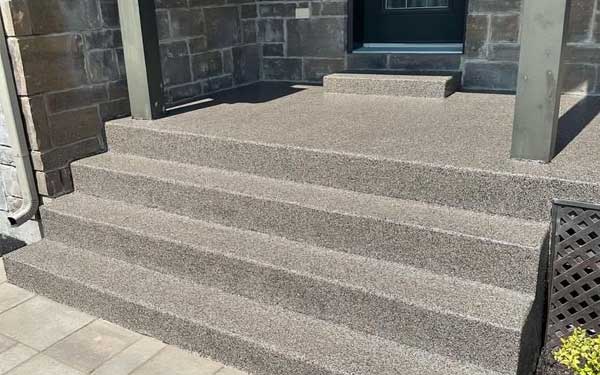 Flake Epoxy Flooring
Our epoxy floor coatings will make your floors much more attractive. They are highly durable, stand up to heavy traffic, and increase safety and improve liability issues because of increased lighting and non-slip surfaces.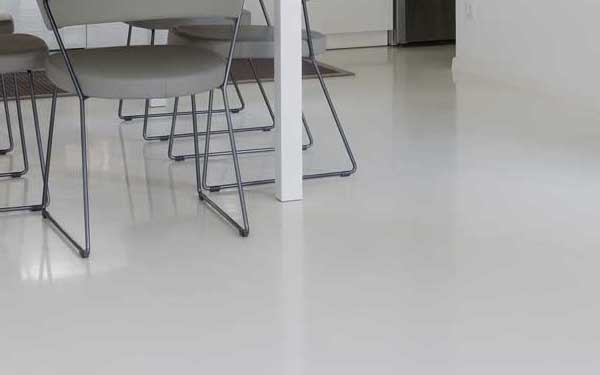 Solid Epoxy Flooring
Epoxy floors are no longer for industrial use only. Residential epoxy floors can benefit from the same lasting quality that is attractive in a range of colours and designs, is easy to clean, and is cost-effective.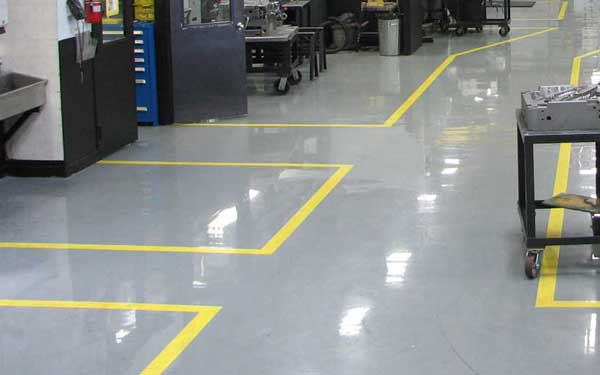 Bring more light to your space with surfaces that are durable and much easier to clean. Concrete floor polishing levels and smooths your concrete surfaces. A high gloss shine will increase reflectivity and natural light.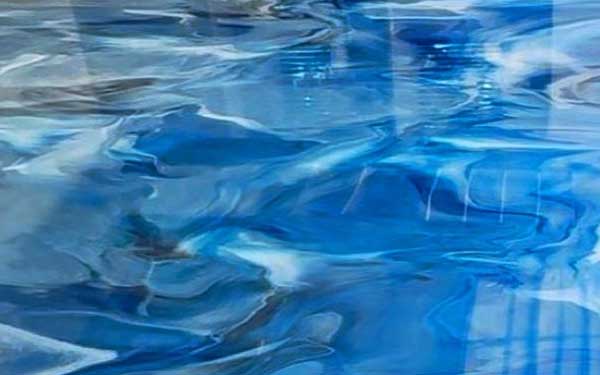 Metallic Epoxy Flooring
Metallic epoxy flooring is a durable and attractive interior concrete finishing choice for those seeking a more artistic look for their floor. Functional, seamless and chemical resistant in many styles.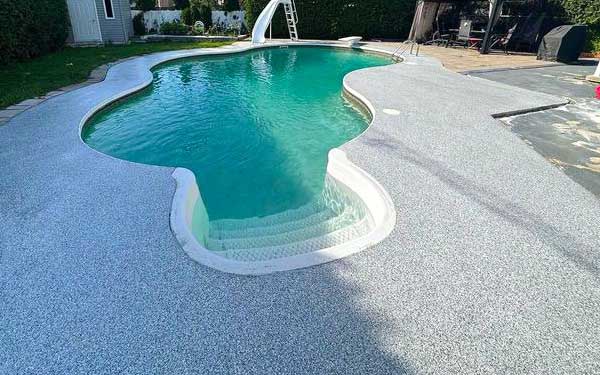 Throughout the Kitchener area polyaspartic floor coatings are the perfect choice for protection against high exposure and harsh substances. Polyaspartic floor coatings are highly resistant to chemicals & abrasion.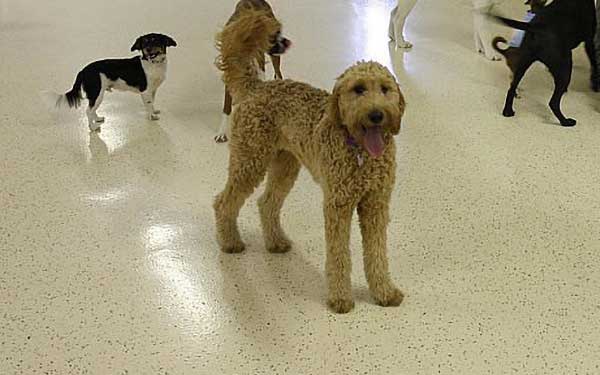 Urethane Floor Coatings
Urethane floor coatings are frequently installed in the Waterloo area for its hygienic design. Urethane, also known as polyurethane, is a flooring system we use to provide seamless waterproofing protection.
Why Mountainview Epoxy Floor Coatings?
Quality Workmanship
We are a quality focused epoxy flooring company offering our services in Kitchener-Waterloo. Over the years, we have increased our knowledge and acquired valuable experience for handling even the most difficult floors. We have developed expert knowledge in epoxy flooring providing you with excellence every time.
Tailored Service
Whether you have a small kitchen that requires a flooring upgrade or an industrial warehouse with uneven floors, we can help. We customize our epoxy flooring services to your needs and preferences so you get the results you're looking for.
On Time & Reliable
Although we are meticulous about each concrete floor we work on, we also understand that you need to get back to your routine. We strive to meet goals for a quick turnaround without compromising quality.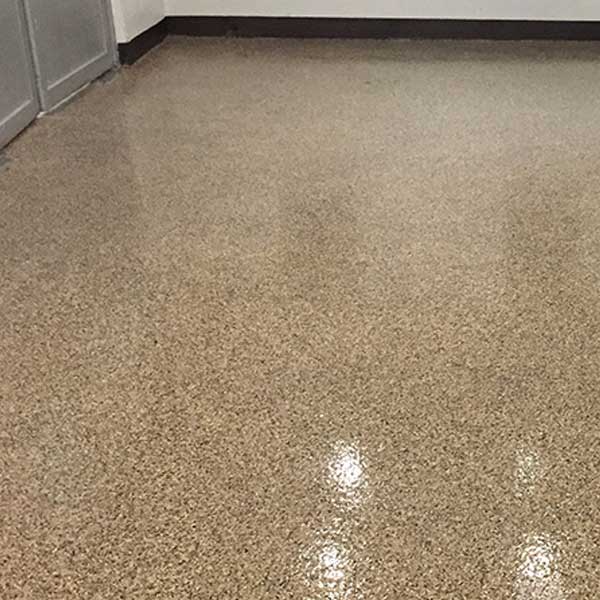 Benefits of Epoxy Floor Coatings
Aesthetic Appeal
Our epoxy floor coating services include a wide range of colors allowing you to match your décor and other interior design elements. The high gloss, reflective surface of epoxy flooring creates a smooth, bright, atmosphere that looks professional and increases light.
Durable Long-Lasting Surfaces
The tough materials used in epoxy flooring make it resistant to stains, chemicals, and heavy traffic. Epoxy coating protects the surface of your concrete floor. This gives your concrete floor a longer life and reduces the expense of repairs for many years.
Easy-to-Clean Smooth Surfaces
Epoxy flooring has a smooth seamless surface free from crevices and pores, making it much easier to maintain cleanliness. Soap and water is all you need to keep your epoxy floors looking like new for many years. Routine cleaning is all you need to remove dirt and keep a glossy finish.
Chemical Resistant and Safe
Epoxy coatings are durable enough to stand up to continued exposure to a wide range of chemicals and abrasive materials. Epoxy coatings are also resistant to extreme and sudden impact, staining, scratching, cracks, slippage, and high temperatures.
What Our Customers Have to Say
Excellent workmanship and customer service. Rick and his crew were professional and completed the job on the date as scheduled.
Highly recommend Mountainview Epoxy Solutions to provide a quality finish to concrete floors.
Terrence Gurzanski
I cannot thank Rick & his team enough for the great job they did on on our restaurant floor. It is so much more appealing and safer. During the two day process everything went smoothly. I selected Mountainview because they took additional time to explain my options, which helped us make the right choice for coatings, colours and the anti-slip finish.
Our garage floor looks like a showroom with the grey metallic flake flooring and I love how easy it is to clean. No more dust being tracked into our home. Thanks Rick for explaining the entire installation process so that we were fully prepared. No surprises, which was nice. The entire Mountainview team was professional and courteous. I will certain recommend them to others.
Robert & Carroll
We had Mountainview install epoxy / urethane flooring in our basement floor for a more esthetic appeal. We were extremely satisfied with the finished product. The level of service was excellent. The team worked efficiently. Rick was very responsive in all communications with us, informing us of time frames and the process details. We would highly recommend Mountainview to family and friends.
Abe Peters
Our company hired Mountainview Epoxy to install industrial grade coatings on our concrete floors. We were quite impressed with the quality of the work that surpassed the results we were looking for. We didn't think the floors would turn out as smooth as they did. Mountainview is a very knowledgeable and attentive company that delivers what they promise.
Sandra Sterling
I can't say enough good things about Rick and his team. From being a few minutes early for our initial meeting right through to the final cleanup, everything was handled professionally. Their attention to detail surprised me the most as extra time was spent grinding our ugly cracked floors to ensure they were properly prepared. The entire experience was 5 stars.
Kevin Flood
Epoxy Flooring Waterloo Kitchener Region
Mountainvew is a trusted epoxy flooring company serving Kitchener, Waterloo, Cambridge, ON & surrounding areas.
Not sure if we service your area?
Give us a call!