Residential Epoxy Flooring
Living Spaces You Can Live With
Residential Epoxy Flooring, London, ON
Long Lasting Residential Epoxy Coatings
Attractive Durability That Lasts
A home is the most expensive investment you will probably make in your lifetime. Naturally, you want your home to last as long as possible and to continue to look good throughout its lifetime. However choosing the right materials for both durability and attractiveness doesn't necessarily have to be expensive. Decorative concrete is proof of that. Residential epoxy and concrete floor finishing is available in a wide range of colours and designs with hotel-quality durability and a cost that is much easier on your budget.
Safety and Cleanliness
Not only is residential epoxy attractive and durable, it increases safety by lowering the possibility of slips and falls, increasing the ambient lighting, and it's super-easy to clean. We all know how often there are spills in the kitchen that can cause accidents. Hot utensils, broken dishes, and foods that are slippery, sticky, or cause stains can easily damage traditional flooring surfaces and cause safety hazards. But the kitchen isn't the only room where residential epoxy flooring is essential. Anywhere that spills or slip hazards can happen, or where cleanliness is especially important, can benefit from this flooring solution.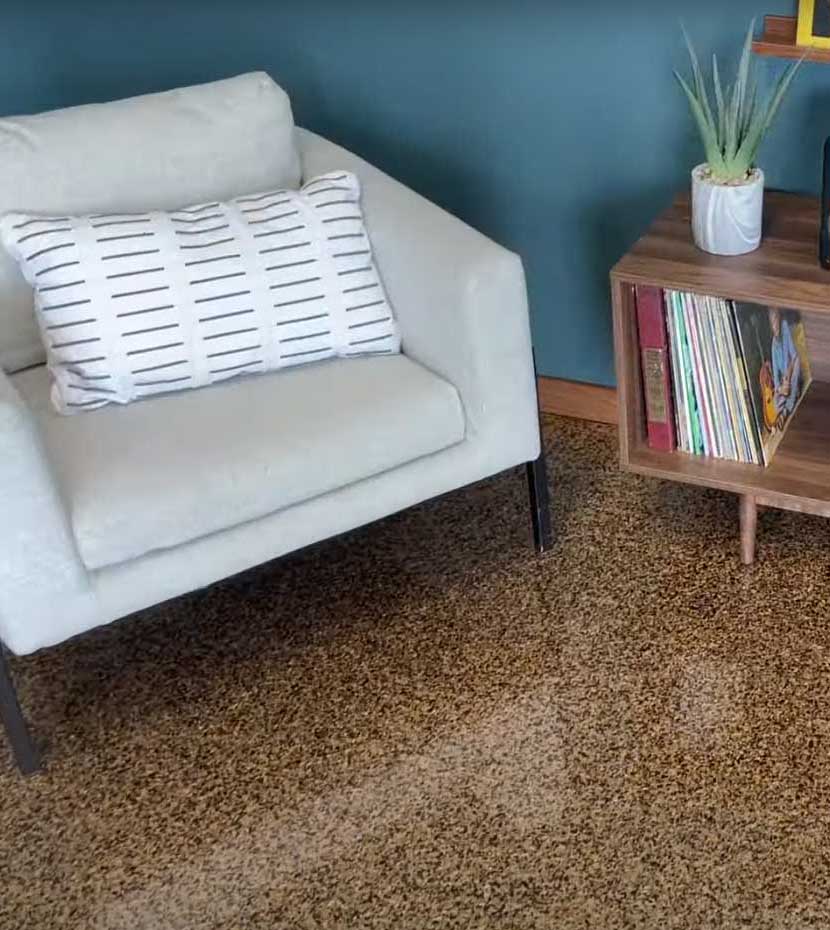 Residential Epoxy Flooring Applications
Concrete flooring finishes can be used for almost any room in or outside the house. It is versatile for both interior and exterior surfaces and can be used for any type of floor. Epoxy coating is available in a wide range of colours and designs making it an essential element of your décor and style preference. In addition, it is safer for areas that are prone to slip and fall hazards, spills, high traffic, and damage.
Walkways, Porches, and Patios – add grit to surfaces that may become wet and slippery. Easy to maintain and durable to stand up to high traffic and damage from weather.
Driveways and Garage Floors – Anti-slip coatings make these surfaces safer to walk and drive on. Resistant to stains from chemical spills, oil, winter de-icer, and the effects of the freeze-thaw cycle. Increase curb appeal by adding an attractive design or personalize with your favorite sports logo.
Kitchens and Bathrooms – Rooms that need to maintain sanitary conditions benefit from the non-porous epoxy coating that is resistant to stains, heat damage, and household chemicals. It is also easier to clean. A variety of design applications can allow you to customize to match your decor.
Basements, Laundry, and Mud Rooms – leaky washing machines, a flooded basement, or your dog's muddy paws are no longer a cause to worry about your floors. Seamless, non-porous epoxy coatings make clean-up and sanitizing a breeze. Scuffing boots or pet toenails are no match for the hard, durable finish that will last a lifetime.
Have a question or want to book an appointment? Get in touch today!
Why Choose Mountainview Epoxy?
Residential Epoxy Service Area
Our service area for residential epoxy flooring installations includes: London Ontario, Brantford, Kitchener, Cambridge, Waterloo, Hamilton, Guelph, Stratford and all of the smaller communities in and around these locations.